It's all in the SweepBank app: Instant transfers, accelerated saving, flexible payments, smooth shopping, and more.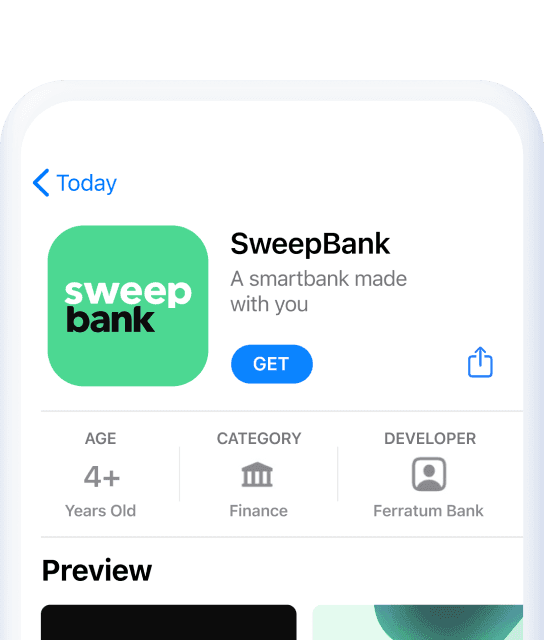 Step 2
Download the free SweepBank app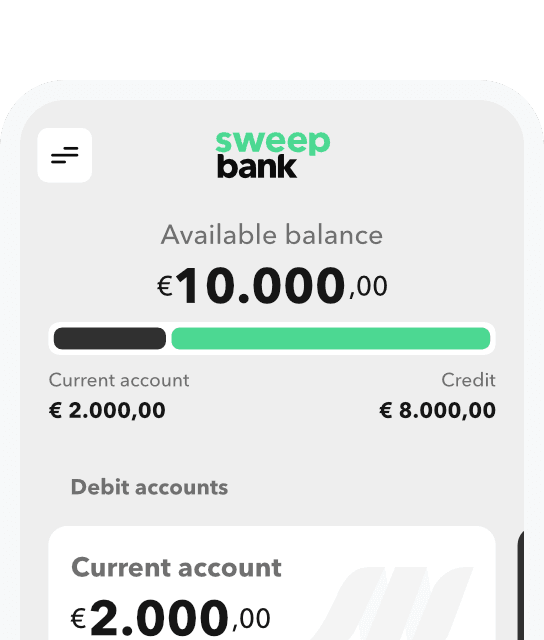 Step 3
Save, spend, and grow with SweepBank
💸Move your money
Transfer funds from card to Current Account or set a recurring Top Up and put everything on autopilot.
Add funds to your SweepBank Current Account from your connected Credit Card in only a few steps.
Want to keep your Current Account topped up at all times? Set your Top Up to Recurring, pick a date, and let the SweepBank app take care of the rest.
🪴Grow your balance
Save faster with a truly sweep interest rate. Earn up to an amazing 4.30% with our fixed term savings account.
Do you want to earn secure interest on your savings? Open a Fixed-Term Deposit Account to earn up to 4.30% annual interest on your savings.
🧾Make a Payment
Stay on top of bills and other payments in the SweepBank app. Instantly transfer funds out of your Current Account using just an IBAN.
Keep on top of your regular Payments in the SweepBank app. Instant transfers* to and from your Current Account make paying bills simple.
* Transfer times may vary. There may be a delay from the financial institution receiving funds.
Copy your IBAN in 3 steps for easy money transfers from any other bank to your Sweep account.
💳Master your Card
Instantly transfer from Card to Current Account and shop securely with contactless payments in seconds.
Withdraw funds from your SweepBank Credit Card to your Current Account instantly in the SweepBank app.
Spending money shouldn't mean spending more time at the register or entering your card details online or in your app. Pay quickly with the devices you use every day with Apple Pay and Google Pay right in the SweepBank app.
Have a question? We are here to help.
We're glad you asked! SweepBank was created with a customer first vision, and to be completely customer driven based on your needs. We think it's time to change the old ways of banking forever, and build an open platform for the best financial services.
We believe you should have a fast, pleasant, and positive experience without the traditional paperwork, delays, or even missed opportunities.
We also believe in providing a personalized and fully digital experience, with a real human available to talk when you need it.
At SweepBank, we look forward to taking a different approach and to provide you (our loyal customers) with products and services that work for you, and keep you coming back for more.
Is SweepBank trustworthy?
Yes. While the SweepBank brand is completely fresh and we're just starting our journey, we are part of an international financial group named Multitude that has served more than 2 million customers in 23 countries since 2005. Our team of banking professionals and customer service experts are dedicated to making your everyday banking easier and more fun.
We give special attention to making our app and banking services not only easy to use but also safe and secure. In addition, as our customer, your funds and savings up to €100,000 are safeguarded by bank deposit protection.
Yes. Getting our app and creating your account is completely free, as are our everyday banking services, such as paying with your phone or card, making transfers, saving money and so on.
But if SweepBank is free, how do we pay the salaries of the people designing and building great services for you? In addition to everyday banking services, we provide optional lending and credit services that add flexibility to your life and help us maintain our business through the interest you pay. We believe in long-term, mutually beneficial customer relationships and providing you with the right financial services easily and quickly when you need them.
Why should I choose SweepBank?
We are a fresh new mobile banking option specifically built to match your needs. We combine our long history in digital banking with our customers' feedback and insights to create the products and services you need and want. You, our customer, are at the center of everything we do.
And yes, money matters, too. That's why our app comes with saving features that build your wealth and optional credit to make your life more flexible. Signing up and using basic banking features is free and there are no hidden charges. Last but not least, we give you interest on every Euro you save.
Is my money safe with SweepBank?
Yes. SweepBank is a part of an international financial group named Multitude that has served more than 2 million customers in 23 countries since 2005. Our banking license is registered in Malta. As our customer, your funds and savings up to €100,000 are safeguarded by bank deposit protection.
Safety and security are also our top priorities when developing our app and services. Safety involves many things, from getting to know you as a customer when you create your account, to making sure only you can log in to your app once you have it.
Which bank is behind SweepBank?
We are powered by Multitude Bank p.l.c. Our mission has been "anywhere, anytime, anyone" - now we are adding "anything" with SweepBank.
How do I contact SweepBank?
If you need to speak to a human for help with anything SweepBank, feel free to engage with our Customer Care team through our live chat option. Simply click the chat icon on the SweepBank website or
SweepBank Help Center
to speak to us.